Trees Available for Fall 2023 and Spring 2024
Learn More
Free Phone Consultation for the First 15 Minutes
Experienced Commercial Truffle Grower
Maximize your farmland and profit on relatively few acres by cultivating truffles. Garland Truffles is here to help you assess the suitability of your planting site and put your gardening or farming experience to good use. We are the most experienced and successful commercial truffle grower in the Western Hemisphere, supplying inoculated nursery stock. Send us an email to learn more about our services and current prices.
Facts About Truffle Farming
Truffle farming is a commercial, high-risk, and high-return investment.

 

Significant capital, time, and labor are required.

 

It is not recommended for the casual backyard gardener.

 

A minimum of 54 trees is recommended to begin truffle farming. 

 

One or more acres with approximately 500 trees are considered a commercial venture.

 
Our Services 
Consulting

 

Workshops (By Appointment)

 

Orchard Visits, Including Seasonal Hunting

 

Tasting

 
We Stock and Help You Obtain the Following
Books on Truffle Growing 

Irrigation Supplies 

 

Mulch Materials 

 

Biological or Chemical Pest Control Solutions

 

Truffle Nutrients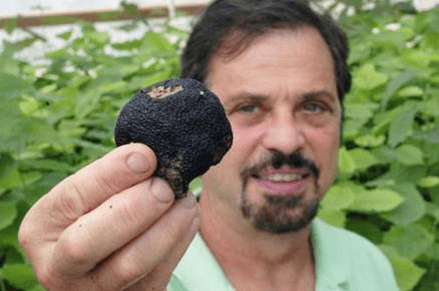 Why Choose Garland Truffles
Since 1979, Garland Truffles has been in the business of producing truffles. All our trees are grown in-house, not by a third party, using proven scientific methods. Our tree prices are more competitive than anyone else in the industry. Additionally, we provide hands-on consulting services for orchard methodology, maintenance, pest control, disease control, chemical stimulants, and dog training.
At Garland Truffles, everyone benefits when you produce truffles. More clients are cultivating truffles on their property each year, and we buy back all suitable truffles at wholesale prices.
Our Guarantee
Garland Truffles will not do the following:
Force partnerships backed by silent third-party foreign investors that will use the sale of your land as an exit clause if your orchard fails or production hasn't started within a certain time frame 

Ask you to pay us more money and surrender a large portion of your truffles when you begin producing

 

Recommend you attempt cultivation in areas that we deem unsuitable (except for experimental purposes) 

 
Call us at (919) 732-3041 for more information about our truffles.
(919) 732-3041